From Winning Medals To Buying Her First Home
Katie Ormerod is an Olympic Snowboarder overall world cup slopestyle champion and 11x world cup medalist. So, it's safe to say that she has accomplished more than enough in her 23 years.
Even though Katie lives an extraordinary lifestyle she still faces the same first-time obstacles that life throws at everyone 20-odd year old, including buying her first home.
If you're a first-time buyer, then sit tight because Katie has plenty of pearls of wisdom to share with you. As well as, discussing her beautiful bathroom transformation that we have been lucky enough to be a part of.
Lets get stuck in…
Hi Katie, Tell Us A Little Bit About Your New Home?

Katie in her beautiful new bathroom
Hey! So, my house is a 3 bedroom period property built in the Victorian era. It has beautiful high ceilings and some original features, such as old gas lamp holders, Victorian fireplaces and ceiling roses, which add a lot of character to my home.
When You Were Looking To Purchase A Property, Were There Any Key Features You Were Looking For?
When I was looking to buy a house, I had no idea what I was looking for. I didn't really know anything about houses and was unsure about the style of house I actually liked.
I knew I wanted a doer-upper as a fun project to do, but It wasn't until I walked into the house that I purchased that I knew exactly what my preferred style of property was.
I loved that it was a period home that had lots of potential and could immediately see a vision of what I wanted it to be like once I had renovated it. All the rooms are very spacious with high ceilings and it has a good sized south-facing garden which was a huge plus.
If There Is One Thing You Wish You Knew Before The Buying Journey Began, What Would It Be And Why?
I found the buying process fairly straight forward, although I was lucky enough to get help from my parents. I think that if you really love a house and you get a good feel when you walk in to it, then it will probably be the one.
I would say that the one thing I didn't anticipate was how long the renovation process would take.
As I wanted a doer-upper, I wanted to renovate the whole house, including knocking walls down and stripping every room of wallpaper and having some walls re-plastered. As I wanted this to be a project, I decided to take on as much as I could myself which was a huge learning curve.
I had no idea where to start but I got stuck in with the renovations and learnt so many new skills, which also saved me a lot of money – for example I did all the decorating myself, stripped the whole bathroom myself and I was lucky enough that my Dad wanted to help with the renovations too, so he did the more complex parts that I was unable to do.
It took me just over a year to complete my house, so if you are wanting to do a full home renovation, just bear in mind that it won't be finished overnight – it takes time and patience. Enjoying the process is key.
Whilst Looking At Properties Did You Focus On Bathroom Potential?
The Bathroom was one of the most important rooms when looking at properties. I knew I wanted to ideally fit in a free standing bath and separate shower, so was looking at houses that had big enough rooms to tailor that.
My bathroom now is very spacious – it's the perfect size for me to comfortably fit everything in that I wanted and didn't have to compromise. It's a rectangular shaped room, so I spent many hours drawing up different designs and ideas of where everything would best fit in the bathroom.
We Can't Believe How Fabulous Your Bathroom Transformation Is, Where Did You Pull Your Inspiration From?

After
I spent around 6 weeks finding inspiration and doing research to find out exactly what kind of bathroom I wanted. I knew that my bathroom was going to be one of the main features in my home, so didn't want to rush any decisions in choosing what I wanted. 
I quickly found a passion for interior design after buying my house and I thoroughly enjoyed the process and took inspiration from multiple home magazines, Pinterest and Instagram.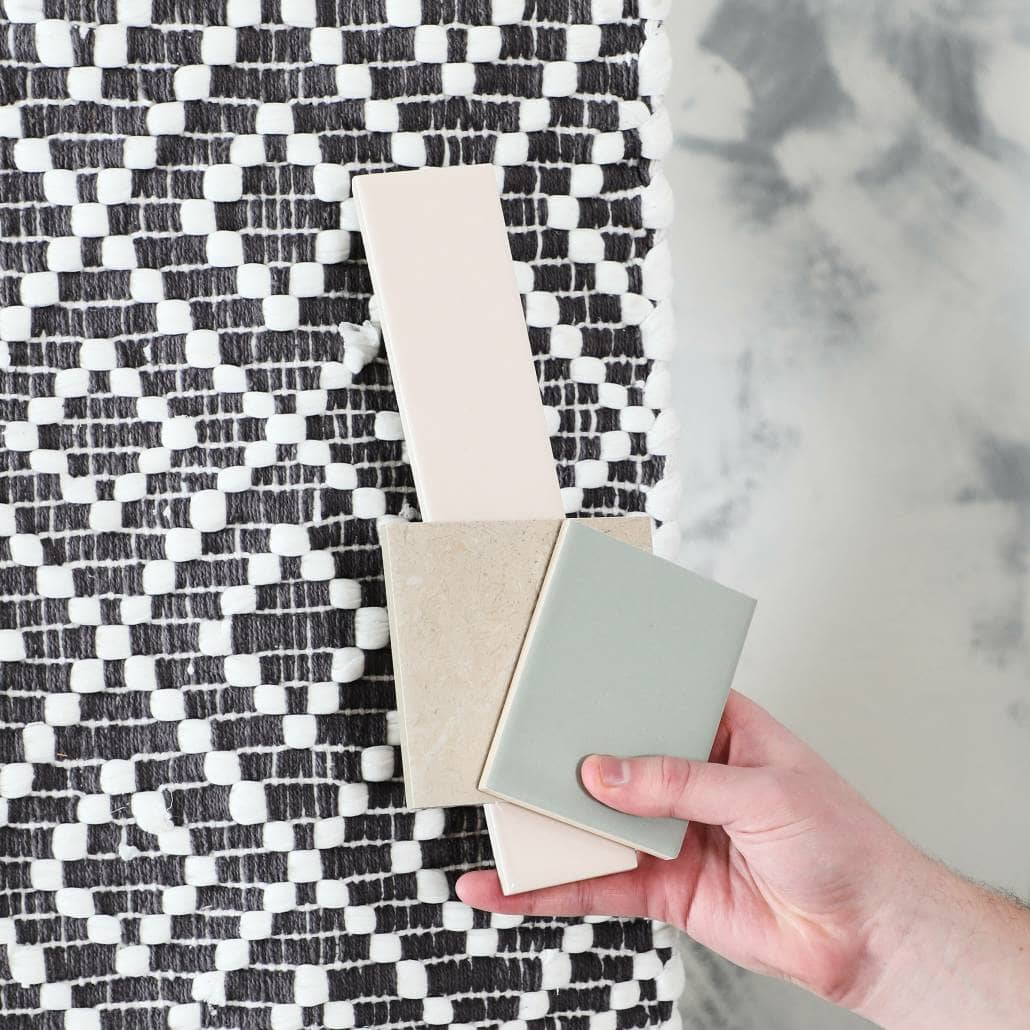 I quickly found that I loved the contemporary designs with black features and taps, so I knew that this was something I wanted for my bathroom. 
I loved the minimalist look, so spent time choosing products that not only looked great, but also fit comfortably and saved space where I could – which is why I made decisions such as choosing a wall-hung sink over a more traditional styled one. 
I wanted the overall finish to be modern and classy, so decided to pair flat white metro tiles with black grout, but also leave 2 of the walls only half tiled so that I could add a splash of colour to the walls above. 
I really wanted a pale pink room and decided that the bathroom would be perfect for that as it pairs beautifully with the black and white features. 
I also wanted to add a bit of a traditional style into the bathroom, so chose Victorian style patterned floor tiles, which go perfectly with the rest of the bathroom.
I had to be bold and decisive when making decisions for my bathroom and as no one I know has a bathroom even close to being similar to the style that I wanted, so I had to be brave and trust my vision – It paid off!
Honest Answer, Has A Freestanding Bathtub Changed Your Life?
Yes! I love my freestanding bathtub! It is so comfortable and relaxing and makes taking a bath feel so much more luxurious than before. It is also an eye-catcher to visitors and guests – everybody loves it.
What's Your Favourite Product From Big Bathroom Shop & Why?
I must've looked at every online bath shop there is but found that Big Bathroom Shop had everything that I wanted in my bathroom vision.
I love all my products, but in particular the Milano Nero – Modern Freestanding bath shower mixer tap with hand shower. It couldn't be more perfect for my bathroom and the house as a whole as it puts a modern twist on a traditional design.
Shop The Look
Milano Irwell – White Modern Oval Double-Ended Freestanding Bath – 1595mm x 740mm

Shop
Milano Nero – Modern Freestanding Bath Shower Mixer Tap with Hand Shower – Black

Shop
Milano Nero – Black Quadrant Shower Enclosure – Choice of Sizes

Shop
Milano Nero – Mono Basin Mixer Tap – Black

Shop
The post From Winning Medals To Buying Her First Home – Katie Ormerod Gives Her Advice written by Rikki Fothergill appeared first on Big Bathroom Shop.